Effie Trinket is one of the most unforgettable characters in The Hunger Games. On top of her accentuated manner and her insanely upbeat attitude, Effie Trinket is most known for her outrageous and flamboyant style which epitomizes The Hunger Games Capitol fashions. It is famously known that for each amazing outfit that Elizabeth Banks wore for the character of Effie Trinket, there was a new wig, set of nails and, of course, makeup style to match and complete the garish outfit.
Let's look at some of the most unforgettable ensembles.
Effie's Entrance at The Reaping
The Reaping is the first appearance of Effie Trinket in the film and it certainly blows the audience away with its pure insanity and drastic contrast against the backdrop of a grey, dull District 12.
Firstly, the outfit itself dusty pink in color and matches from head to toe; a key feature of Effie Trinket's clothing collection throughout the film. The first noticeable thing about the outfit is the bulbous shoulder detailing which gives her a broader look and pins on an exaggerated 80's style.
Secondly, like most of her outfits, the waist appears very small due to corset binding. On closer appearance, the outfit is extremely elaborate, using rivets in the tight pencil skirt, flares on the gloves and small frills on the sleeves.
The outfit is topped off with an over sized obscene corsage placed just off centre of Effie Trinket's bouncy platinum permed hair and an complex fabric flower-design choker necklace, which appears as a bunch of flowers attached to her neck. Her shoes, as throughout the entire film, are boot shoes with an open turned down front, which in this case, match her black gloves.
The second most important thing about Effie Trinket's look is her striking make-up. In this scene, this look is one of a strange red tinged glow around her eyes. Not her most famous eye make-up, this particular design is still strikingly odd and gives an inhuman feel to the character. This is achieved by a thick layer of white powder on the face, a red eyeshadow ring around the eyes, leaving the waterline without makeup and a generous slick of deep red lipgloss. The makeup look should be finished off with piercing blue contact lenses, to contrast the red eyeshadow.
Effie in Green
Another signature look that belongs to Effie Trinket, is her bold emerald color outfit. This look is even more bizarre as the makeup pushes conventional boundaries.
The dress comprises of Effie Trinket's notorious over sized shoulders, this time in a puffy bloated manner and short sleeved. An obscenely large corsage of darker green is attached to the right shoulder and creep up to her neck, giving an odd impression of seaweed. She tops the outfit off with bulky turquoise gem earrings and matching bracelet. Her hair is a more yellow green color, and is blazoned with a hefty black corsage.
The makeup and nails are the most significant thing about this outfit. Firstly, the nails are impractically long, colored turquoise and adorned with rhinestones and faux pearl beads. Secondly, the eye makeup, unlike Effie's usual spread across the face, is much smaller and more concentrated, giving her the impression of cartoon eyes. The eyeshadow is condensed only to a vertical strip of turquoise in the centre of the eyelid to the browline, finished with two strips of green either side. Her eyes are lined with bright blue eyeliner, which highlights the blazing blue contact lenses which give her a piercing stare. Lastly, her lips are pale pink and drawn in an extremely tiny central fashion, mimicking those traditionally attributed to Geisha.
The Notorious Eyelash Look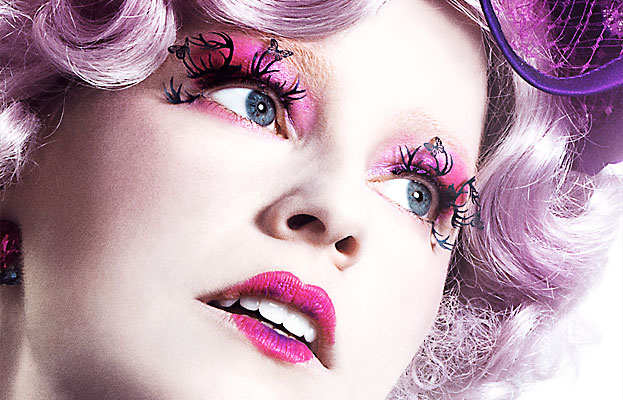 One of Effie Trinket's famous looks is her violent and blue outfit. Most well-known for the ludicrously elaborate fake eyelashes, this outfit has been the key determinant for many current cos play fashions.
Firstly, the outfit itself is another large shouldered dress, this time in deep purple featuring a high collar that stands around the neck. The outfit is embellished with another striking corsage down one shoulder, appearing like a large bunch of violets. Her hair has a slight purple tinge with this outfit and is garnished with an outlandish fascinator which includes mesh and lace butterflies.
Her makeup with this ensemble is probably one of the most memorable numbers of The Hunger Games. Firstly, her eye makeup comprises of a vibrant pink shade, which spreads across her eyelid and up to her brow line graduating across her cheekbones. The lids are not lined; neither is the waterline, and her dazzling blue contact lenses still appear striking against the pink.
Her eyelashes, however, are the most remarkable addition to this outfit, matching the fascinator by imitating grass with butterflies. These false eyelashes have a 3d feel to them and can now be purchased online all over the world.
Our Tips for an Effie Look this Halloween
Baroque Wig from BuyCostumes.com
Eyelashes from Paperself
Nails from Capitol Colors, China Glaze
What's Your Effie Look?
Are you planning to look Eff-ing fabulous this Halloween? Let us know your tips and tricks! Leave a comment and tells what you think.